This is Diabetes Submissions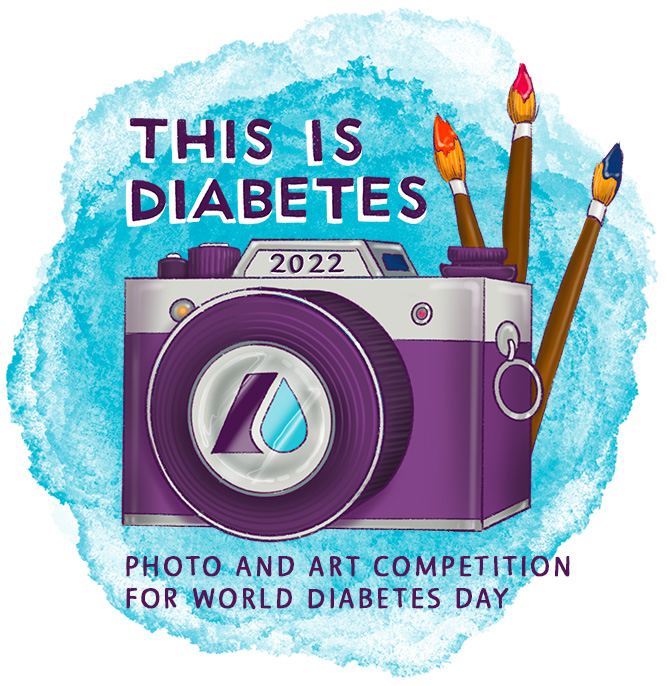 Dancing in the rain
When educated well on diabetes you are able to thrive in the daily storm of diabetes. Mentally as well physically.
Invisible Battles
This painting became an exploration of the ongoing, often unseen, battles of diabetes in the form of a reflection on the grand Renaissance battle paintings. In diabetes, my protection takes many forms- but rarely the physical armour the outside world may picture. Often, the critical piece of armour that people with diabetes must rely on for our protection when heading into this relentless battle is education. Access to reliable information keeps us safe and enables us to stand strong against this invisible opponent. Numbers and data take up a huge amount of space in my mind- as opposed to the golden halo of those Renaissance portraits- but an education on how to use those numbers, how to categorise them and understand them, is another crucial element in diabetes self-management. This painting explores the balance between strength and exhaustion, the second unseen battle in diabetes. I believe that people with diabetes are heroes, that we are so much stronger than any one of us often realises. However, my diabetes journey has featured many moments of exhaustion- both the daily ups and downs and more significantly, burnout. I have struggled with obsessive behaviours in diabetes and disordered eating, and have spent time in therapy for the emotional burden of diabetes. The strength and exhaustion do not outweigh each other but must exist mutually in this perpetually exhausted hero. There are days when it goes well but there will never be a victory, I will never 'win' these invisible battles, just wake up and fight again tomorrow. Just as those great Renaissance paintings told the stories of the mythological heroes, as an artist I am passionate about the power of art to tell the stories of people with diabetes and to empower us all.
The diabetes knights
Here we have the incredible team called the diabetes knights! Sir Truque(old knight)has diabetes and he knows everything about it. Lily (young knight) who also has diabetes, is his apprentice and she wants to learn everything about it. Together they form an amazing team. I decided to create this team of apprentice and master because I really like the idea of someone old who knows a lot of things about diabetes because he has lived a long life with it, that wants to teach someone young and new in that world about it to help. I wanted to include the colours of Ascensia Diabetes Care in a colorful way and used my style for this illustration that contains this two characters that wear armours inspired by diabetes with some details in the design and their weapons that help them stay healthy and feel good. Sir Truque is inspired by my grandfather, he has type A diabetes, he has always been an example for me and I wanted to participate in this competition for him. I hope you like it😊
WELCOME HOME INSULIN
I know how important is the insulin for diabetes. I wanted to show you more friendly and funny version of injection the insulin. A version that everyone can understand.
Don't Dice With Diabetes
I am dyslexic and much more comfortable with pictures rather than words, but here goes: I was originally diagnosed with gestational diabetes. At the time, I was told that I was at risk of developing type 2 diabetes later in life. I was too wrapped up in the moment of pregnancy to take much notice of the future. Later in life, I did develop diabetes and I have been diabetic for around 10 years now. Education is so important to understanding diabetes. Words aren't always enough; I needed hard-hitting facts to educate me. An image rather than a leaflet full of words would have had far more impact. This is where my photograph comes in. My image 'Don't dice with diabetes' is a message using sugar cubes as dice and a play on the phrase 'dice with death'. This image can be interpreted in many ways and may have already sparked a thought or emotion for you the viewer. Therefore, I will leave the viewer to their own thoughts and interpretation. As it's hard for me to read, a series of images similar to this one would have hit home far more. 'Education to protect tomorrow' in image form works so well. People live busy lives and they may not have time to or may not be able to read lots of information. As they say, a picture speaks a thousand words. Education in image form can help to protect peoples' future.
DT1 Evolution
My little daughter debuted DT1 when she was six years old. Although she is dealing now with many concepts and concerns, my dream for her is to become a powerful woman, free of medical chains, as much as possible.
Fighting together
The photograph shows a group of people with diabetes sensors spreading their arms together. It represents solidarity among diabetes patients.
La gota que colmó el vaso
Con esta imagen, lo que quería representar era hasta qué punto la diabetes se vuelve el centro de nuestro día a día, de nuestro pequeño universo. Cómo esa simple es capaz de tantas cosas, desde sacarme de mis casillas como mantenerme viva cada día y lo sencillo que es con una bombilla y un boli percatarse de que está ahí todo el tiempo. --- English translation: --- With this image, what I wanted to represent was the extent to which diabetes becomes the center of our daily lives, of our little universe. How that simple one is capable of so many things, from getting me out of my hair to keeping me alive every day and how simple it is with a light bulb and a pen to realize that it is there all the time.
Spreading Care And Awareness
The story of my image is about a doctor and a diabetes patient. The focal point of the piece shows their hands, with the doctor reassuring and helping the person on the right. In the background there are treatments and devices that is part of the diabetes care and education people deserve to have and to know. There is also a blue ribbon, the symbol for diabetes awareness. The meaning behind all of this is because those who are living with diabetes deserve the proper education on how to keep themselves healthy, along with the technology and tools to do so.
Diabetes Warrior
Although diabetes makes your daily life challenging sometimes, it is not stronger than you. You are bigger than that. We are bigger than that.
Taking Care
With this image I strived to convey a sense of fluidity and show a diabetic person with a multi faceted life, not defined by his diabetes alone. The orange section represents his professional life, the green section represents his health/diabetes, and the blue section represents his personal life. I hoped to create an uplifting image of a diabetic person and display a positive outlook on their every day life.
The many faces of being low
The experience with diabetes is as diverse as the people who are diagnosed with it. This comic shows the many ways people living with type 1 diabetes feel when their blood sugar is too low: confusion, anger, hunger, paralysis, and blackouts. The comic is one in a series of comics, portraying different situations and experiences of people living with type 1 diabetes in Scotland, and is based on their descriptions of symptoms when their blood sugar is too low. My aim with this particular piece was to communicate the diversity of hypo-symptoms and with that educate others to recognise these symptoms and maybe even to help out with a bit of orange juice.
"I've always felt different somehow"
Many people who were diagnosed with type 1 diabetes as children share the experience of always being the odd one out. The one who has to eat, when everybody else is not allowed to eat. The one who has to prick their finger, check their sensor, and give themselves insulin regularly. The one who has to have a break while everybody else is playing. This portrait shows a boy at school, secretly injecting his insulin in the lavatory, before he can join the other children outside playing football. The boy in the lavatory is based on the narratives of several people afflicted with diabetes, who remember, how they were "always feeling different somehow" when they were in school. The portrait is one in a series of eighteen, portraying a range of people of very different ages and backgrounds living with type 1 diabetes in Scotland. The series of portraits picks up on important themes in the lives of people with diabetes and can thus help educate others as well as empower people with diabetes.
Always together
It's a miniature aquacolor painting full Of meaning, in the center a scene of the last time I was with my grandma, she died from diabetes and cancer, I gave her a medal, we hold hands, she smile to me and let me know that she is was always going to be my companion in all My adventures, around us there's a básquet and 8 carrots, 4 for her daughters and sons 4 for her grandchildren, glasses or specs because of the lost of sight in diabetes, she also was very fashionable, Next ring is about blood testing, controlling diabetes, then her favorite flowers cartuchos and another tiny ones that I adore and always picture in her hair, pancreas hidden in the middle of some of the flowers and tap with splashes of water meaning the thirst.
Drawing
It's all about taking care of yourself:)
Powered by Insulin, Driven by Purpose
As a person living T1D myself, this theme and the World Diabetes Day are both very significant for me. I have tried to encapsulate the many aspects of living with diabetes in this poster. The title of my story is : Powered by Insulin, Driven by Purpose. I personally believe that this condition has given me inner strength to deal with its many aspects, overcome challenges and emerge stronger and this is the message I want to share with the community. I'm powered by insulin, but there is nothing I cannot do - that others can do. I'm also driven by the purpose of making insulin access and affordable cost of treatment, technology and tools available to all those who cannot afford it right now. For every diabetic with this condition, community is the real strength, and education and awareness can add value to it. I want them to hope and believe that they will be victorious in managing the condition. The angel in my poster represents wings of hope and resilience. It's my definition of "This is Diabetes" !
Diabetes Does Not Define Us
In this piece, I illustrated the various people who live with diabetes, and those who care for people with diabetes. I wanted to portray how despite its difficulties, diabetes can tie people together to create a loving and compassionate community. Given its growing prevalence on a global scale, the innovations in the management and treatment of both Type 1 and Type 2 diabetes are more significant than ever. By incorporating many scenes throughout day-to-day life, I hope to share the message that diabetes does not have to hinder the quality of life and that wellness always comes first.
Access of Diabetes Care & Education
This art work depicts the need of people with diabetes to stay open minded to improve one's health through multi- sources of support through digital care and education, partnerships and helping hands.
A Run for a Healthy Life
The idea behind this illustration is to eliminate the idea that diabetic people can't do physical activities and to educate the steps a T1 diabetic has to take every day to have a healthy life and enjoyable workouts.
"Fight with us"
I found the competition of "This is diabetes" quite by luck. Many times in my life I heard that diabetes is a terrible disease, but I have never delved into its research. Like me, many people do not realize the scale of this disease. I am lucky that no one from my family suffers from diabetes and this is the reason we knew little about it. It is inconceivable that many people do not know about the disease from which each 10 th man suffers. My illustration helps people to understand the situation with diabetes and to encourage people to actions. I found the competition of "This is diabetes" quite by luck. Many times in my life I heard that diabetes is a terrible disease, but I have never delved into its research. Like me, many people do not realize the scale of this disease. I am lucky that no one from my family suffers from diabetes and this is the reason we knew little about it. It is inconceivable that many people do not know about the disease from which each 10 th man suffers. My illustration helps people to understand the situation with diabetes and to encourage people to actions.
This is Diabetes
My illustration tells the story of two people, one without diabetes and one with diabetes. The girl on the top side of the drawing can relax, she doesn't have a single worry. The man on the bottom is climbing the mountains of his blood sugar levels. He constantly has to work, put effort in checking his blood sugar, injecting insulin, eating. Even if he doesn't have something else to do. Diabetes is worrying, every day. Working everyday. And every night. This is Diabetes.
The constant shadow over us type 1's
This is just some of the essentials to stay alive for a type 1 diabetic, unfortunately we ran out of a few things before finding out about this competition but feel this shows the constant essentials of a type 1 diabetic well.
Diabetes Doesn't Discriminate
I'm especially passionate about the promotion of diabetic education as three of my family members are diabetic so I understand the challenges of daily life due to diabetes. However, many people who are not personally effected or have a diabetic in the family are unaware of the risk factors and warning signs of diabetes. With more than half a billion adults worldwide living with diabetes in 2021 the need for education is stronger than ever. Your health is your wealth. Regardless of your path in life (represented by the road in my illustration), gender, age or ethnicity you are at risk of diabetes. Diabetes doesn't discriminate. Protect yourself. Educate.
MOTIVATION IN DIABETES
Diagnoza dziecka-cukrzyca typu 1. Rodzice już w pierwszych dniach wybierają drogę którą będzie zmierzać całą rodziną nie zdając sobie z tego jeszcze sprawy. --- English translation: --- "Child diagnosis - type 1 diabetes. In the first days, parents choose the path that the whole family will take without realizing it yet."
Learning together
When I became aware of this art competition, I informed myself a bit about diabetes. I just realized how little I actually know about it. I think it's the same for many others and this is terrible. In my opinion everyone, even young people should know the causes and the treatment of diabetes. That's why I think it would be great if, as shown in the picture, this would be explained at school so that everyone has a basic knowledge of it. In addition, it would be great if everyone had the opportunity to ask questions to a doctor or to an affected person. The picture should show that our goal should be to learn together, share our experiences, help each other and talk openly about diabetes or other diseases. Only in this way better education can be provided for everyone.
Not alone
People living with Diabetes are not alone, globally efforts are being made to raise awareness of the need for improved access to diabetic education to stop the rise of diabetes and prevent complications.
Diabetic children are superheroes
This drawing was made by Sofia, the older sister (13 years old) of a diabetic child. She considers her a little heroine and she is very proud of how she copes every day. p.s. Thanks to Keith Harring for the graphic inspiration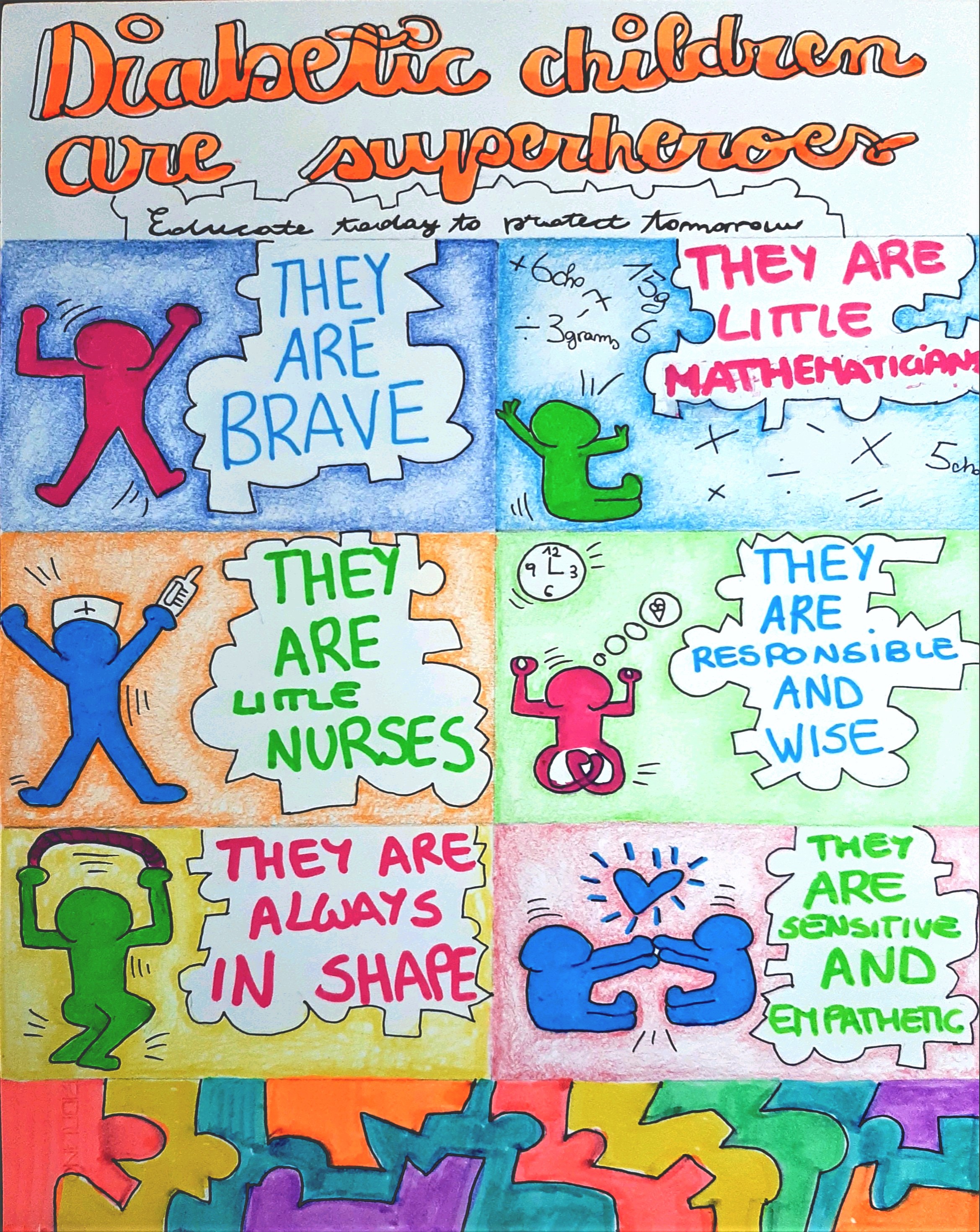 THE THREE MOST IMPORTANT PILLARS FOR THE CONTROL OF DIABETES.
PLEASE THIS IS THE CORRECTED PHOTOGRAPH THAT I WANT TO COMPETE, SORRY FOR THE CONFUSION BUT I PUT THE WORD DIABETES IN THE VALENCIAN SPANISH LANGUAGE AND WE WANTED IT TO BE IN ENGLISH, THANK YOU VERY MUCH
My day with Diabetes Type 1
Hi! I'm Sara, I'm 34 years old, 25 with Diabetes Type 1 and I'm a graphic designer. In 2012, as a final thesis of my master's degree, I created a collection of educational infographics for children who are recently diagnosed with Type 1 Diabetes, encompassing the entire therapeutic complex, so that they can understand better and adhere to treatment. I recently changed my job and as my daily routine is a little different from my colleagues and sometimes it's difficult to explain in words what it's like to manage a disease like Diabetes, I decided to use this same approach to portray my day. Fortunately, not every day is like this but I think it's a funny way to carries the message.
Self management - less work, better results
My artwork represents the change that self management and knowledge can make in one's life. The left side of the picture represents our life since our youngest diagnosed at the age of 4 before self responsibility, and back than food caused a real rollercoaster most days. But then self management appeared in our life. It completely changed our handling with diabetes therapy. Gathering own information and connecting with other affected and successful families (mostly through the internet, symbolised by the smartphone) was a game changer. By now, there are almost never problems with food management and diabetes influences our life significantly less. Now we have a healthy relationship with management and nutrition. This is represented by the right side of the picture now at the age of 10.
Complications of Diabetes
"A nose for life"
•This is the story of Retina (yes, like in the eye). Retina started her life as a street dog until she was taken in by an animal shelter. As soon as the Association heard about her, trainers and vets went to visit her and do the appropriate health and skills tests. It didn't take them long to realize how smart Retina was and discover she is importante to a family, in which the "human dad" was diagnosed with type 1 diabetes. Today Retina is happy doing her job, taking care of her "human dad", both while he sleeps, when they go on adventures, when they go to schools to educate for diabetes, or even while they do their common marathons across the country. Retina is family, it's friendship, it's love, it's a safe haven. •In my art can be identified: - a female dog "marking" a hypoglycemia; - the bag and the glucometer machine that people with diabetes always should carry; - sugar packets that symbolize the packets that have to be ingested in S.O.S.; -glasses in order to emphasize the importance of good eye health, since one of the worst consequences of diabetes is diabetic narcolepsy, that is, blindness.
Synchronizing with the inner curve
With this drawing I want to vindicate the constant day-to-day fluctuation of the glycemic curve that we diabetics have to control. This search for balance evokes the same search for balance when performing yoga postures.
Control your Diabetes
The uncontrolled diabetes of a girl. Next to her all means focused on her control.
LA EXPERIENCIA DE UNA BIKER MÁS...
Cuando una persona vive con Diabetes Mellitus tiene como alternativa 2 opciones al igual que dos caminos. La primera opción es dejarse llevar por lo que la persona escucha, es decir, dejarse influenciar por los mitos, al principio todo podría marchar bien con nuestro tratamiento pero llegará un momento donde todo va a colapsar, nos empezará a ir mal en el camino y por supuesto traerá grandes consecuencias como la muerte anticipada. El segundo camino es la educación, esa en la que cada día se va aprendiendo algo nuevo con base a expertos que a la larga les ayudará a llevar un camino más preciso, así mismo, un buen control y sin consecuencias graves. "Controlar la diabetes es importante, si no lo hace, hay consecuencias con las que tendrás que lidiar más adelante en la vida". – Bryan Adams --- English translation: --- When a person lives with Diabetes, they have two options as an alternative and two paths. The first option is to get carried away by what the person hears, that is, to get influenced by the myths, at first everything could go well with our treatment but there will come a time when everything will collapse, and things will start to go wrong along the way and of course, it will bring great consequences such as early death. The second path is education, the one in which something new is learned every day based on experts that in the long run will help them take a more precise path, with good control and without serious consequences. "Controlling diabetes is important, if you don't, there are consequences that you will have to deal with later in life." – Bryan Adams
The Mindset Of Diabetes
With my art/photography, I strive to show those without diabetes what areas of my body are affected and those with diabetes a sense of comfort and understanding. Diabetes is an invisible disease to others but to us we have constant bruises, wounds, symptoms and most of all constant anxious thoughts. I wanted to represent the places on my body that have been affected by diabetes and pair it with the thoughts and symptoms of the disease I have.
"Defend" your blood sugar!"
Allo sport non interessa se sei diabetico, tu fai solo attenzione a qualche valore e poi lasciati invadere cuore ed anima!
My day to day
Hi, my name is Ana and this is my story. I have been diabetic since 1997 and in these 25 years, research on the desease has advanced a lot. I think the biggest advance has come with technology, for instance, sensor (with which I appear in the photo), avoiding many finger picks. Another important advance is insulin pump. This is all diabetes care , and I strongly believe that diabetes education is essential. All this teaches and helps us improve our quality of life. Eventually,thank you for reading my story and for giving diabetic people this opportunity.
Every other day
My great-grandmother had diabetes and to control them we did blood tests every other day. She died 3 years ago from diabetes. She found out she had them whem she was older because at the time she was born there weren't the technologies of today. Even though she had diabetes and didn't know it she had a good life with some downfalls and she had a long life too. Just not long enough for me. I miss her a lot!!
Learning on the way
Under the premise of this year's competition "Access to Diabetes Care: Education to Protect Tomorrow" I thought of the concept: Diabetes education as the way. Looking back over my life so far, I have never stopped learning. The more I learn, the more I can confirm that I am on the right path. I use the metaphor of the maze to talk about how lost a person with diabetes can feel, not knowing what to do about it. The key is education so that we don't stumble on the path we deserve.
"Dziecko z ct1- świadomość choroby"
Nasza " przygoda" z chorobą zaczęła się w 2014 roku.Na początku stres,załamanie - szok. Jednak nie zamierzaliśmy się poddać chorobie! Nie ograniczamy się w niczym,żyjemy tak jak przed chorobą ( po za przeliczaniem posiłków,mierzeniem poziomu cukru,podawaniem insuliny) nic się w naszym życiu nie zmieniło. Bierzemy czynny udział w akcjach charytatywnych edukujących społeczeństwo,wspomagamy doświadczeniem i swoją nabytą wiedzą tych ,którzy są dopiero na początku drogi z cukrzycą ... Świadomy pacjent to już połowa sukcesu w procesie leczenia .Nasza wiedza, zaangażowanie , odpowiedzialność = skuteczna terapia. Żyjemy pełną parą!!! 🙂 --- English translation: --- Our "adventure" with the disease began in 2014. At the beginning, stress, a breakdown - huge shock. However, we were not going to surrender to this disease! We do not limit ourselves to anything, we live as before the disease (except for counting meals, measuring sugar levels, and insulin injections), nothing has changed in our lives. We take an active part in charity actions educating society, we support with our experience and knowledge those who are at the beginning of their path with diabetes ... A conscious patient is half the success in the treatment process. Our knowledge, commitment, and responsibility = effective therapy. We live life to the fullest !!! 🙂
Balance
I tried to represent the balance between opposite things that a person with diabetes could do. I think that people with diabetes could have a normal life with healthy habits. In the center there is a glucometer, this instrument helps to control the glucose level. It is inside a hexagon that represents the glucose molecule. This structure allows the sheet to be divided into 6 opposing parts.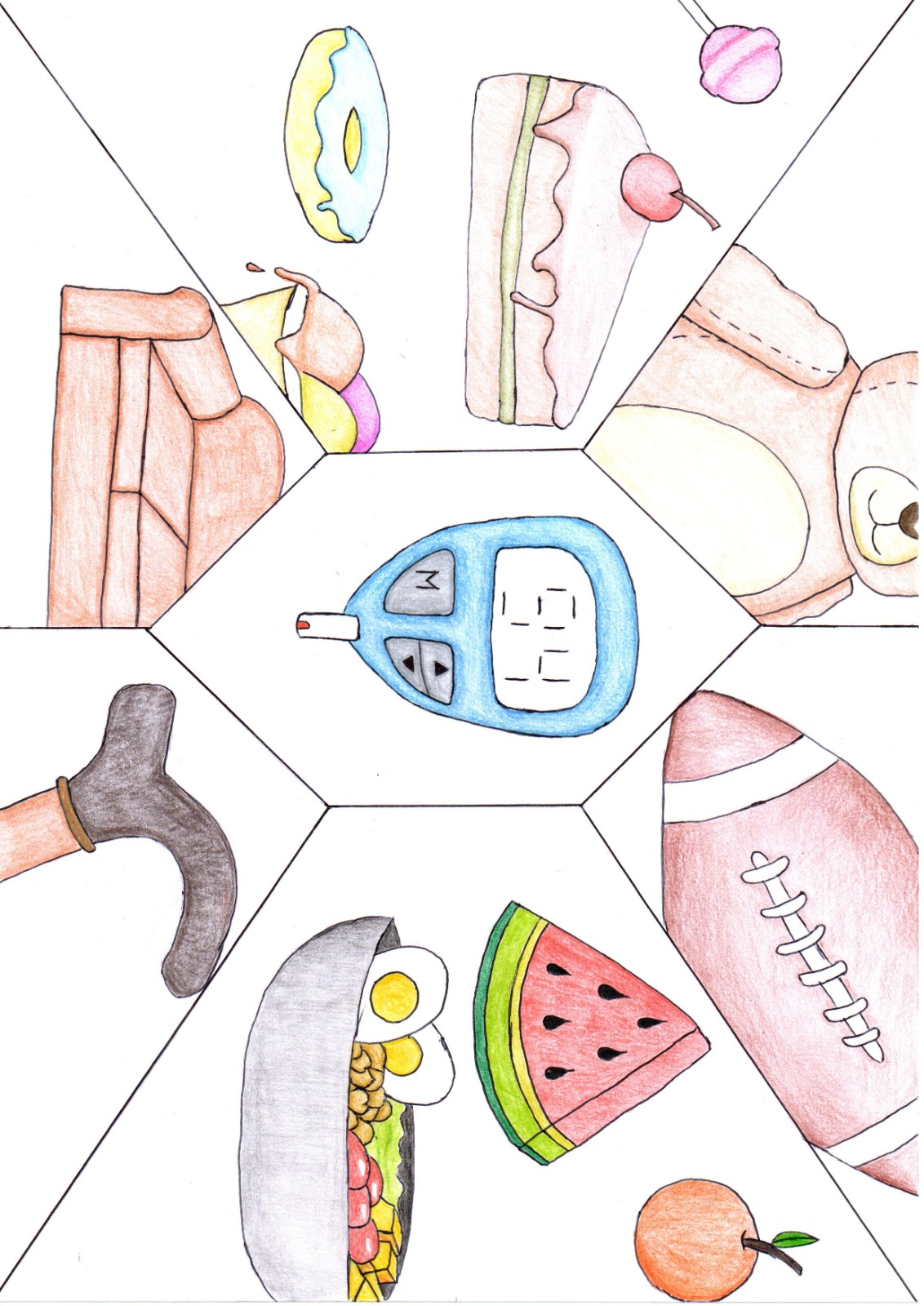 needle confetti
My son Benjamin has diabetics. He was 10 years old when he became sick. As a parent it's difficult to know your child has to carrie this with him for the rest of his life. Nobody can see it, but as a mum I feel it every day...
GREEN TEAM
HOLA, LA VERDURA Y LA FRUTA SON LOS MEJORES COMPAÑEROS DE EQUIPO PARA VENCER A LA DIABETES. YO MISMO LO HE APRENDIDO AL SUFRIR ESTA ENFERMEDAD HELLO, VEGETABLES AND FRUIT ARE THE BEST TEAMMATES TO BEAT DIABETES. I HAVE LEARNED IT MYSELF BY SUFFERING FROM THIS DISEASE
Survivor
This picture is a self portrait. You see me with 28 injections, the minimum amount of injections for a week.
Actors of diabetes
And the story beggins like this: I am an architect with diabetes. After seeing this initiative, I decided to at least try. I came up with a script, talked my brother and his girlfriend into it - they became my actors. My idea was that a diabetic is always dependent on something - insulin, sensor, insulin pump, friends, sugar, carbohydrates. I feel a bit (or not only a bit) tension all the time. I planned for 2 characters to play diabetics, I planned to connect them with catheters, tubes that I use every day. The preparation started cheerfully, I taught my brother how to insert a real catheter, we joked, everything seemed very ironic. And when I finally tangled up them in a hose (and there were a lot of them) she felt bad. She turned pale, lost consciousness. We helped her, she recovered, we were terribly worried about the actress who played the second dianbetic. And that actress of mine is very dear to me and my brother! A diabetic is dependent not only on insulin, but also on friends who understand them. She knows everything about diabetes, she helps diabetic children, basically her job is to help everyone - she's a paramedic. I'm sorry I didn't manage to capture my idea, I hope this description will shed some light on it. But I am so grateful that she, that actress, is in my life, because otherwise I would be a worse character for my diabetes.
Huge run for better treatment
Most of the efforts made every day by diabetic people are minimal if we compare them with the requirements demanded by the health system for accessibility to the appropriate treatment for each person. Sometimes you have the feeling of running on a treadmill where no matter how hard you try, you can't reach the goal. For a world in which we can offer treatment to all people.
Wear with Pride
This is a concluding piece from my twelve-part series "facing monster". My series represents everyday struggle of any person living with type 1 diabetes. It is a lifelong fight with this monstrous disease but accepting it, overpowering it and winning over the negativity in difficult situations leads to the path of contentment. This particular piece represents a winning scene where a type 1 warrior overpowers diabetes with advanced weapons and it a proud moment to showcase the victory, freedom and regaining confidence to live life without compromises. The message is to proudly equip ourselves to tune in to the adventures of life with more power, no shame and more consciousness than before. Show off the devices to educate people, not to be looked down or judged. Diabetes wearables are small manageable gadgets compared to old humongous ones. Yes, there is something clinging to your body 24/7 but it gives freedom to manage diabetes efficiently. Looking like a cyborg is a new fashion movement altogether so "celebrate" it. Technique- Female anatomy surrounded with textures, grey matter showcasing diabetes and diabetes devices blown up to showcase weapons. The piece is handmade, illustrated with water color inks and felt tip pens on cold pressed handmade paper.
Better Together
For my piece I wanted to highlight the relationship between type 1 diabetics & the importance of correct management. Discovering Type 1 diabetes in early years, is one of the most challenging times for a child to both adjust & understand the difference in their bodies. Knowing that there are aids to help improve management & it isn't something to hide nor be afraid of. Insulin can be a patients best friend and protector. Better, Together.
Diabetes with eyes to the future.
Busque que mi obra reflejara los sentimientos y una parte del proceso de lo que va sintiendo una persona con diabetes (reflejado con los personajes encasillados en colores), así como los nuevos aparatos que debe ir adaptando a su vida (reflejado mediante el glucometro central), así mismo señale la importancia de la asistencia medica, ilustrándola como una mascarilla, sobrepuesta en el botón principal del glucometro, como reflejo de la importancia de su apoyo y asistencia. Look for my work to reflect the feelings and a part of the process of what a person with diabetes is feeling (reflected with the characters encased in colors), as well as the new devices that they must adapt to their lives (reflected through the central glucometer) Likewise, point out the importance of medical assistance, illustrating it as a mask, superimposed on the main button of the glucometer, as a reflection of the importance of their support and assistance.
My Father
My art piece is inspired by my father, who has lived with it for more than 40 years. It shows, in a futuristic way, like hologram windows, differents aspects of being diabetic. Since I was little, a lot of people thought that having diabetes it is just to avoid eating sugar, but there is more than that. That is one of the things that I pretend to comunicate, awareness. The second one, and the protagonist of the piece, is what my father considers is the best technology avance related to his diabetes: The Glucose Sensor. It allows him to know his levels without needles, only with a mobile app; Send reports to the doctors, and warn him if his Sugar levels are very low or high. This art piece shows how my father, between all of the options to have a better life living with diabetes, he chooses that one also as an advice for other people who has not have it, to try it and experience an easier life.
We also need role models
I was always ashamed to have diabetes as a child. It was because the superheroes, main characters or other characters rarely had diabetes (in Germany) and so I could never really identify because the characters were "normal". So I just decided to make my own character from my former favorite children's series with diabetes and that gave me a sense of belonging.
BEHER
One night I was completely locked out. It was like my legs couldn't move at all and. He had me hooked The next day, I went out with my mother early in the morning to go to the doctor. We went to hospital. I mentioned the cramps in my legs and they referred me to an orthopedic doctor. I told the doctor about my complaints. He also took my analysis and this frame came out. And I present this work to the related competition as digital photography-based art.
Sweet Girl
The photo shows a girl suffering from diabetes. The slogans on her body are often the thoughts of diabetics. The photo is aimed at all people to show them what diabetes really is.
A Synthetic Life
The idea for this image came to me from a web of diabetes related inspirations. The insulin vial is reminiscent of those first vials containing purified insulin. The chrysanthemums are the November birth flower; we celebrate WDD on November 14th, the birthday of Dr. Banting. The flowers are blue to represent the connection to National Diabetes Awareness Month and World Diabetes Day, because it is the colour selected to represent diabetes. Additionally, the blue chrysanthemum is not found in nature and was genetically engineered by scientists a few short years ago. This is representative of the ever-changing science surrounding diabetes and diabetes technology. The imagery in the piece aims to educate through symbolism in an effort to preserve the sentiments first attached to the idea of insulin. As we strive ever-forward, it is essential to remember where we started.
HELPING EACH OTHER
I have several diabetic relatives and I know this topic very closely. I am an illustrator and with this work I wanted to represent how important it is to help each other, and value health, healthy living and union with nature to improve our quality of life.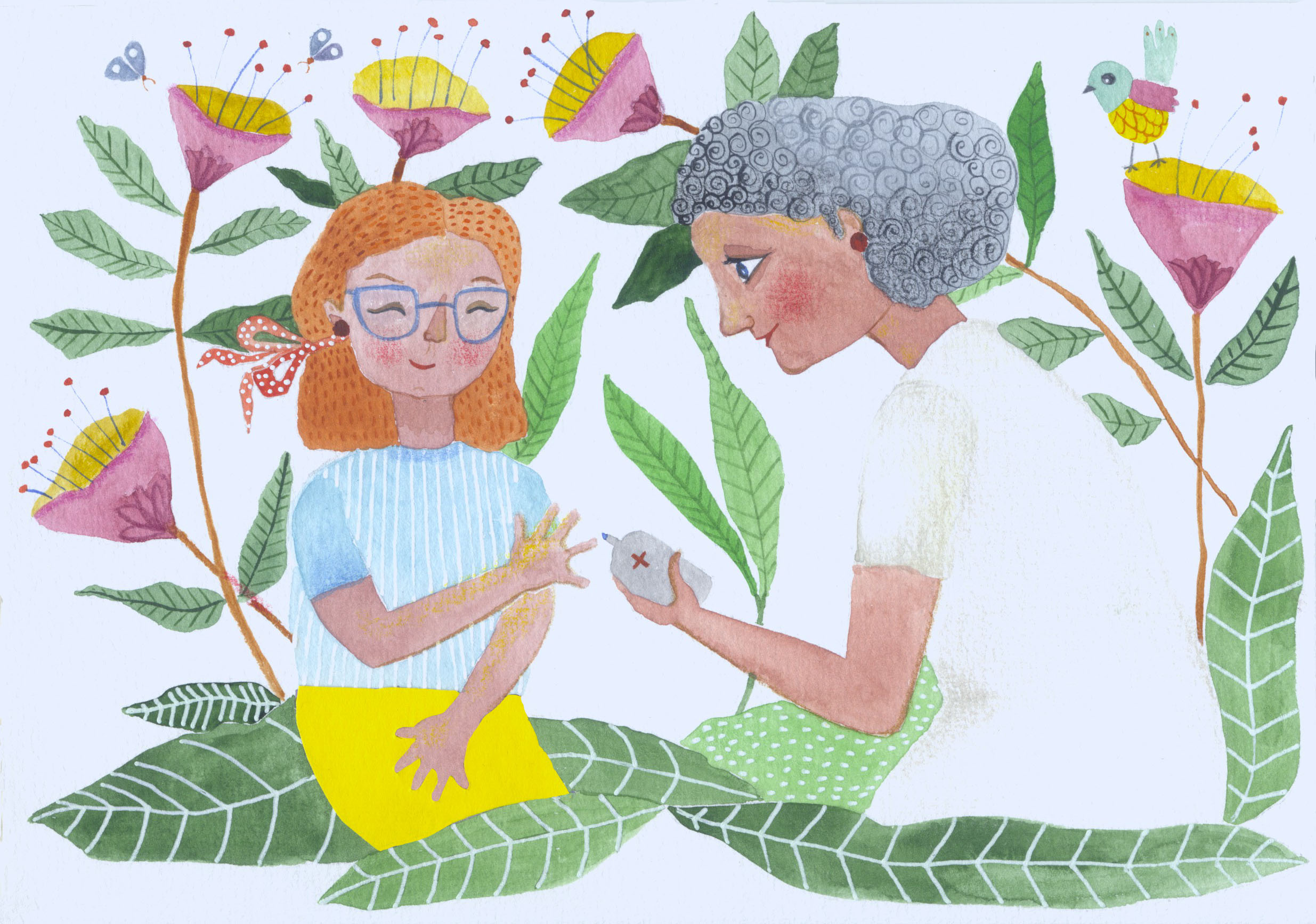 Better control, better life
Como diabético tipo 1 desde los 20 años, sé de lo que hablo cuando digo y deseo que la educación y el mejor de los controles de esta enfermedad que nos va a acompañar toda la vida puedan estar al alcance de la mano de todos los niños y niñas del mundo. Y como reflejo en la foto del collage analógico realizado, da igual que sea en horizontal o en vertical, la diabetes forma y va a formar parte de nuestra vida. Siempre. Y cuanto mejor controlada esté, mejor calidad de vida tendrán nuestros hijos e hijas. --- English translation: --- As a type 1 diabetic since I was 20 years old, I know what I'm talking about when I say and I hope that education and the best control of this disease that will accompany us throughout our lives can be within the reach of all children and girls of the world And as a reflection in the photo of the analog collage made, it does not matter whether it is horizontal or vertical, diabetes is and will be part of our lives. Always. And the better controlled it is, the better quality of life our sons and daughters will have.
Que pasa por tu cuerpo
Sabemos bien la teoría de la diabetes pero una imagen dice más que mil palabras. --- English translation: --- We know the theory of diabetes well, but a picture says more than a thousand words.
Different Care
Shahin Islam (17) is the eldest son of Late Fazlul Karim and Surma Begum. They live in the North Wahedpur village under Mirsarai Thana in Chittagong,Bangladesh. His younger sister attends the ninth grade at a local school and his brother is very young to attend school. Shahin's father unfortunately died in an accident and his mother became mentally ill after her father's death. As his sister is still a student and his brother is small, he has to do almost all the chores in the household. The chores include cleaning the house, taking regular care of his diabetic disease regular cooking etc. With help from his sister and grandmother at times, it is never a shame for him to do the domestic work for his family. He believes that men can easily do all kinds of household care work, especially when they have support from the women of the family. Shahin and his family is an encouraging example of men's contribution in our society and country.
La mochila que no puedes quitarte
Con la mochila que no puedo quitarme, camino hacia adelante entre vaivenes de glucosa, con la esperanza de la cura. --- English translation: --- With the backpack that I can't take off, I walk forward between swings of glucose, hoping for a cure.
Healing
İts about people with diabetes and their little supporters.
Fight with me
I saw the announcement of the competition on Instagram, and I immediately thought of my diabetic boyfriend, who have to insulin every day after or before to eat, and our anniversary is the 14th of November, just the day the winner is announced, so I decided to participate because I don't lose anything, and because of that, the image is inspired by my boyfriend.
Pump Proud
As the world continues to learn more about Diabetes and our incredible devices that keep us alive and thriving, it is more important than ever to promote a healthy relationship with our devices and educate those with and without Diabetes that our devices are something to be proud of, flaunted and shouldn't be hidden away! This art piece promotes body and diabetes confidence!
Girl that got diabetes
It is a story of a girl who just got told that she had diabetes.
"Let's tear up diabetes
"Let's tear up diabetes" is a metaphor for the disease, a way to express the will to free oneself from the constraints imposed by diabetes, tearing up all forms of prejudice and misinformation.
"Tetris-diabetris"
As an active volunteer in the Balans MK - Association for Children's Diabetes of Macedonia I've chosen to take inspiration from the all-time favourite Tetris game. It depicts the daily life of every child and person with diabetes (especially persons with T1), like my best friends child Michail. As in Tetris, in every diabetic life there has to be balance between glucose control, insulin therapy, proper diet and physical activity.
Unite as One
Pekalongan batik pattern and blue circle means the countries represented by the branches, unite as one, into a blue circle represented diabetes community Inspired by the global diabetes community efforts to provide assistance for people with diabetes coming from countries with conflicts
Diabetes free garden
A rain of insulin dissolves the sugar in the soil, opening the way to a beautiful garden where a girl with diabetes (represented by a snail, which moves slowly in the pancreas area) finds health and balance!
The world is my sugar cube
I have been told that I do not sound sweet when I speak about by life. Often times we tend to bend the truth. For me the truth is always sweet, and when it comes to defeating diabetes it is starting with looking out ourselves within first.
The Circle of Life
Over these almost 14 years of diabetes I learned a lot... With this drawing I wanted to represent the pillars for a diabetes as happy as possible, that is: - be careful with food, - practice physical exercise, - self-monitoring of blood glucose levels and clearly associated medication, - sharing experiences, socializing with other people in the same condition and being active persons in associations for persons with type 1 diabetes for example (which I consider to have been a decisive factor in my acceptance of the diagnosis), - above all be active and happy with yourself. On the shirt, the words "Blue Fridays" can be seen inscribed as a reference to an initiative that, through the gesture of wearing something blue on Fridays, aims to make the general population aware of this condition of life. The blue circle of diabetes can also be seen in this drawing behind the boy.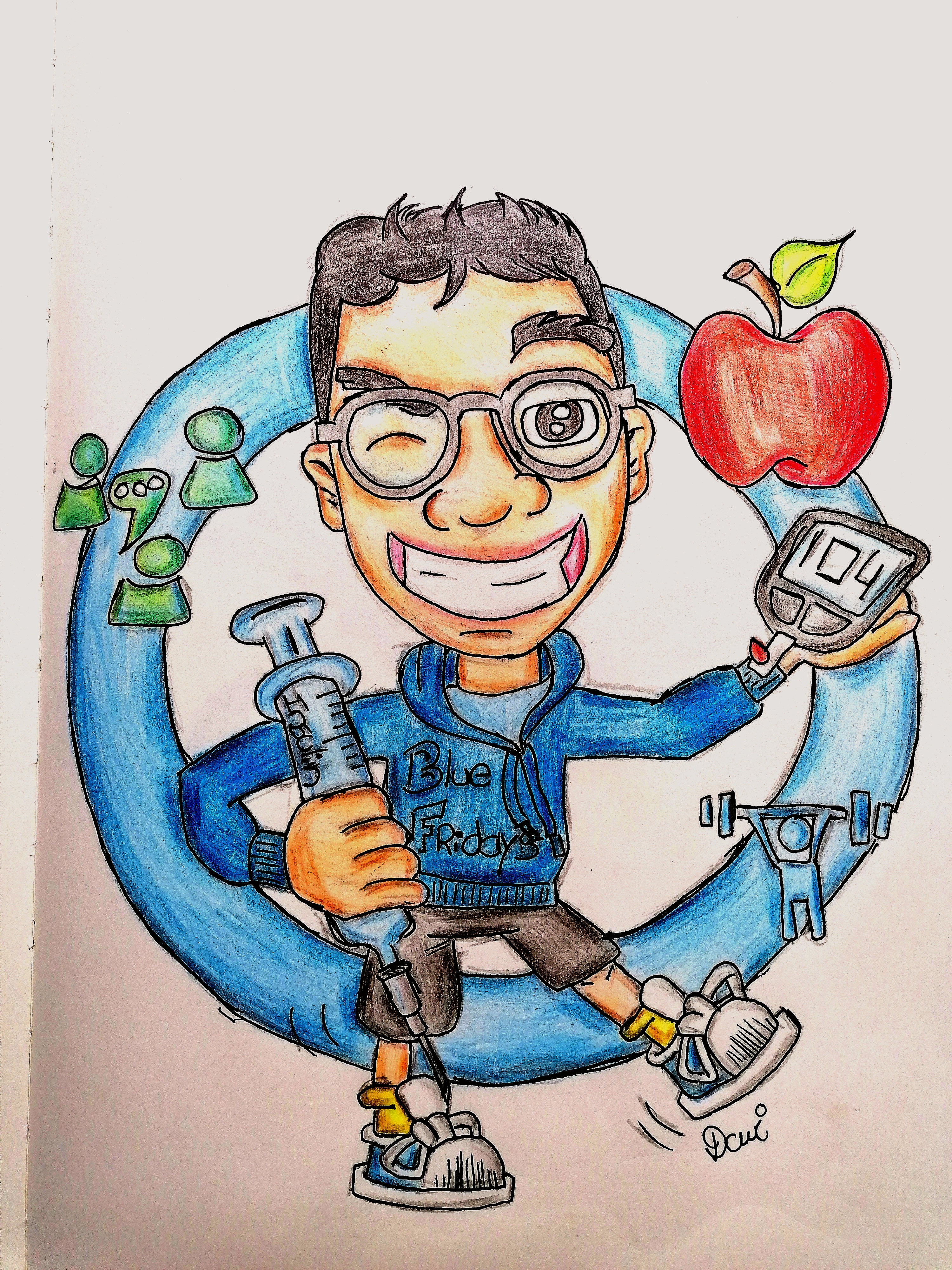 Routine
In our busy world of getting up late or making breakfast,watching tv, tablets are the last thing on my mind. This gently reminds me to take my metformin.
A Heartbeat of Love
I used the elements of the International Diabetes Logo (which consists of two circles and two hands) but in a new composition. We see the hand which need help and the other is the hand which giving. The two circles in the upside-down direction towards the hand which asking for help. The upper hand is the blue Society hand, which represents the main color of the International Diabetes Logo. The blue color was used as water that does not stop flowing and tender. I am an artist committed to the causes of people and society and Very interested in humanitarian issues. My work always express injustice and the poverty of life. I believe in channeling my creative impulses in order to produce unique works of art. This painting is one of my solo exhibition i did in palais des congrès de Montréal, Canada in June 2022 sponsored by Lions Clubs International. This exhibition was one of the activities of the 104th International Conference of Lions Clubs. All the paintings were express the six main humanitarian goals of Lions Clubs (fighting hunger and poverty - protecting the environment - diabetes - childhood cancer - visually impaired - autism) And this is painting of the diabetes. Original paintings (A Heartbeat of Love) Acrylic on Canvas 150*120 cm
No es un juego
Una amiga tiene diabetes después de su embarazo y que no consigue estabilizar y me manda el enlace del Concurso. Yo hago fotos con mis Playmobil y había que intentarlo con ellos. --- English translation: --- "A friend has diabetes after her pregnancy and she is having a hard time managing it. She has sent me the link to this competition. I took a picture with my Playmobil to submit."
live with love
Diabetes is a disease that more and more people suffer from. Science advances faster and faster and makes things easier for us, but many times what helps the most is our attitude. Whatever happens, live your life with love.
The path of our blood
This drawing is a tribute to my father and my paternal grandmother, especially my grandmother who has already left and lived with diabetes. Since I was a child I saw her administering insulin and after a while my father discovered genetics was stronger than he could have predicted, today as a daughter, I try my best to help my father to have a healthier life and the most difficult for him is to cope with feeding, so I emphasized in the design the different types of food and the dreaded glucose molecule in the middle of a vein representation. I wish many people had company in this difficult mission, I believe that the path can be easier when we go together.
keep going.
i promote positivity though Art from my heart. encourage people to keep smiling. having ill health myself ( i have ms) i know life can be tricky. but we can let illness stop us smiling. we have to keep going ! The day i sketched this. i had so much pain. Art has become my therapy, distracts my mind. i love to spend time keeping my hands busy with art throughout the day. many thanks sam payne
Insulin & Me
My image portrays not only the physical aspect of diabetes. How I used to be ashamed and hide my robotic friends. To now being proud of who I am. But this image also shows the mental aspect of how draining type 1 diabetes is with the wilted flowers within my brain, the constant carb counting, sugar checking, bolusing, getting my hba1c in range grieving the person i once was.
The diabetes lighthouse
Diabetes can feel overwhelming but I wanted to show that there's light on our voyage of life - my lighthouse in the diabetes ocean indicates points of reference and safety to help avoid the rocks.
Basic Human Right
When my son was 18 he developed diabetes. I had him tested as a child of 6 when his teacher said he had displayed signs of diabetes, but the tests came back negative. The rest of his childhood years were uneventful medically speaking. He finished school and went away to his first year in college, and when we went to pick him up for the Easter holiday break, he had lost a huge amount of weight. I didn't understand that diabetes was something that could show up at any time, so I thought because he had tested negative as a child, he probably was just adjusting his lifestyle to college living. A year had passed, and although my son was still quite thin, he didn't seem unwell in any other respect. Then he developed a fungal infection and he mentioned that one of the causes was listed as diabetes. I then decided to have him tested again, but he refused to go to the doctor, so I ordered a home test. The nurse phoned me immediately when the results were in and said he had very high blood results and needed to call the family doctor straight away, which I did. After that, I phoned Diabetes Ireland for more information and advice. When I explained our situation, and told the nurse the readings from the blood test, she got very upset and said I could not wait for a doctor's appointment and to take him to the hospital straight away. The doctors couldn't believe his readings, they said they were the highest readings they had ever seen at the hospital and that if he hadn't come to the emergency room, he could have gone into a ketonic coma at any time. He spent a week in the hospital and after they believed his blood levels were at a reasonable reading, they released him with a prescription. We went to the pharmacy and because he had only just been diagnosed, my son was not registered as a chronic illness patient and the pharmacist explained that because we weren't yet registered he would have to charge for the prescription, for which he emphatically apologised. He explained how to register and his words still ring in my ears today, he said, "Insulin is a basic human right, nobody should have to pay for it." This moment was so full of emotion, that it took a bit of time for it to completely sink in. But when I had time to sit and think about it, I began to think how right that pharmacist was, and that everyone should have access to insulin, it is like water, and should not be kept or made financially unavailable to anyone. I began thinking about all the children around the world that were in a place where insulin was not accessible or affordable and it truly touched me how incredibly wrong that is. Insulin is a basic human right, and everyone should have access. I have made my drawing as a ring of multicultural children surrounding the medication that should be available to everyone. I have chosen Diabetes Ireland as my chosen charity because if it hadn't been for that nurse that told me to take my son immediately to the hospital, he might not be here today.
Shades of Blue
Diabetes - represents in blue, has different types - represents in different shades of blue
Piano piano
Dada la invisibilidad de la diabetes en la sociedad y la alta frecuencia de casos en el siglo XXI, es necesario mostrar en una imagen cotidiana cómo se lleva en un contexto casi normal esta enfermedad. Podemos compartir con personas en el día a día que viven con esta condición integrándose en la sociedad sin darnos cuenta. Es una lucha silenciosa de la cual debemos concientizar a nuestro entorno. --- English translation: --- Given the invisibility of diabetes in society and the high frequency of cases in the 21st century, it is necessary to show in a daily image how this disease is carried in an almost normal context. We can share with people on a daily basis who live with this condition, integrating into society without realizing it. It is a silent struggle of which we must make our surroundings aware.
Patches
How safe would you feel if your life preserver only kept you afloat but never let you touch solid ground?
Lets Talk About Complications
I had laser and vitrectomy surgeries after I gave birth to my second child, apparently the contractions triggered retinopathy and I didn't know it because it was never discussed before, a campaign started by Chris Aldred gave me courage to learn more about diabetes complications
Diabetes, everything is O.K.
Being diagnosed 25 years ago with type 1 diabetes was like entering a dark forest. Not much information was out there and it was not easily accessible. Doesn't matter what age, race or place in the world you live: education -together with access to supplies and diabetes tech- is the light beam that guides our path for a better tomorrow in managing our diabetes. Access to diabetes care and education are the 'wings' which allow us to fly and live a normal life with this relentless condition.
Shape the Daily Graph by Art
I "influence" my daily graphics by making art of it, whatever my graph looks like. It is different every day. This art represents a collage of different days, different curves and different doodles.
Gunungan and the Lady with her Diabetes Devices
Based on the Javanese philosophy, 'gunungan' or mountain represents the Tree of Life As a person with diabetes, our diabetes devices (insulin pump attached in the back and flash glucose monitor) allow us to pursue stages of life, along with insulin
Please use your computer to vote